10 things to do on the same day as your balloon ride
5th January 2015 News
A hot air balloon ride is one of the most exhilarating experiences to be had, and is guaranteed to be an adventure. Although this in itself will be an event to remember, why not turn your balloon flight into a short stay with these ten suggestions of fun things to do on the same day as your balloon flight in the South West?
1.Go for a picnic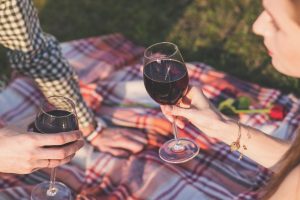 One of the most simple ways of making a day out of your fantastic hot air balloon flight experience is to enjoy an idyllic picnic out in the open. All you have to do is pack a bag full of delicious treats and a blanket, and then find the perfect spot to enjoy quality time and tasty food.
2. Take a countryside walk
Hot air ballooning can provide a completely different perspective on the beautiful countryside. This can often feed the urge to explore at ground level. So, take a walk around the stunning landscapes, through woodland, coastal paths or fields and see the wildlife close up.
3. Visit the seaside
Perhaps you're more of a beach lover? No problem, the South West has plenty of wonderful coasts to explore, too. From sandy Dorset to the fascinating ecosystems of Braunton Burrows, here you can find some of the most picturesque seasides in the country.
4. Try a Devonshire cream tea
All of this exploring might work up an appetite. Luckily, the South West is as famous for its food as it is its sights. For a relaxing break, why not sample a scrumptious cream tea? Just remember, in Devon, the clotted cream goes on first, and in Cornwall, it's the other way around!
5. Or taste a local drink
If you're more into tasting beverages, you will find an abundance of delicious ales in the South West to quench your thirst. With many local breweries and brilliant country pubs, you will find the perfect drink to suit your palate. Sample ciders and ales from across the South West that you will love. You could even try out the establishment that inspired JK Rowling's 'Leaky Cauldron' in Harry Potter – The Old Firehouse.
6. Visit a historic city
The South West is home to some of the most incredible historic culture in the UK. Why not take a day trip to Plymouth, Salisbury, Penzance or even Exeter, which is home to the largest collection of Old English writing in existence? Our cities are a history-lover's heaven, with everything from cathedrals and castles, to underground passages and ruins.
7. Get into nature
The South West is home to some of the most incredible species in the UK. From rare butterflies to adorable mammals, you can find many creatures in the county. Here, you can see everything from Alpacas in Cornwall, to worldwide creatures in Dorset Zoo, to unique puffins on Lundy Island.
8. Experience travel back to basics
Sometimes, the best way to experience a new place is to sit back and watch the landscape pass you by. Try something new and take a trip back to basics and gaze upon the great outdoors from on Dartmouth Steam Railway or Seaton tramway for an authentic twist.
9. Test your skills at a new activity
Visiting Devon, Cornwall, Somerset or Dorset for a balloon ride is the perfect time to throw yourself into something completely new. Learn a new skill in the amazing outdoors of the county. Whether it be surfing, rock climbing or even pottery, create memories and skills you will never forget.
10. Visit a unique local event
The South West hosts a number of great events throughout the year. Whether it be the Christmas markets of Exeter in the winter, autumn walks in beautiful gardens like RHS Rosemoor or exciting summer events offering everything from music, to food, to yet more brilliant ballooning in the summer, like Tiverton Balloon and Music Festival, keep your eyes peeled for extra events before your visit!
For more suggestions, contact us on 01404 823102!