5 Attractions To Take In On A Devon Balloon Ride
14th January 2021 Travel
Devon is as rich in history as it is beautiful in appearance. There is so much to see in this county and we are here to provide the very best vantage point, from 3000 feet high. Devon is the fourth largest county in England and with 6,706 km² to cover, it should come as no surprise that we offer more than one type of balloon ride in Devon! In this article, we look at the different types of Devon balloon rides that we offer and explore the five best Devon attractions to take in from the skies.
Devon Balloon Rides From Aerosaurus Balloons
As a balloon flight provider that has been operating for over 25 years, we have seen our fair share of Devon. With so much to take in and discuss along the way, we realised that we have to offer balloon flights in different parts of the county, to satisfy our passengers' desires. Therefore, we offer balloon rides in South Devon and the South Hams, as well as memorable balloon rides over Mid & East Devon.
So, whether you want to take in the spectacular coastline of South Devon or the enchanting towns and villages of Mid & East Devon, you can experience it all with Aerosaurus Balloons. If you would like to join us for a balloon ride in Devon, be sure to discover our variety of industry leading balloon flight vouchers before booking with us. Without further ado, let's explore five attractions in Devon to take in from the skies!
Dramatic Coastlines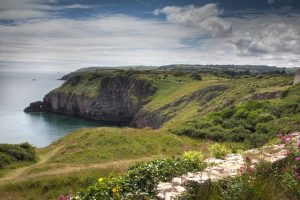 Did you know that Devon is the only English county to have two separate coastlines? To the south lies the English Channel and Irish Sea while to the north lies the Bristol channel. What's more, we also fly near to the World Heritage Site that is the Jurassic Coast, providing passengers with remarkable views of this renowned stretch of coastline. On a Devon balloon flight with Aerosaurus Balloons, you'll get the opportunity to take in these dramatic coastlines. Our team is super knowledgeable about all of our flight locations and are able to impart some outstanding knowledge on the coastlines belonging to Devon, which you can then re-use.
Grand Castles
The grandeur of the architecture across the count of Devon really is something to behold. On a balloon ride with us, you'll be able to take in the breathtaking majesty of the following grand castles:
Berry Pomeroy Castle, situated in Totnes
The ruins of Okehampton Castle, which was once Devon's largest castle
Totnes Castle
Powderham Castle, situated along the River Exe
Lydford Castle, a former prison
Dartmoor National Park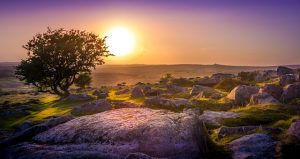 Dartmoor National Park, located in South Devon, is a vast area of moorland that provides passengers with astounding views and memories. The park itself is no less than 954 km² and has been a national park since 1951. A tremendous landscape that consists of moorland topped with granite hilltops, which are commonly referred to as tors, Dartmoor National Park is steeped in antiquities and archaeology.
What's more, the park is also home to an array of spectacular wildlife, some of which you'll be able to spot from our baskets. During a balloon flight over Dartmoor National Park, we'll be able to point out the highest point in the park, which is High Willhays, plus a variety of other key features. So join us on a South Devon balloon flight today and take in the views served up by this area of true beauty.
Exeter Quayside
Devon is not all charming countryside and coastlines! There is also plenty to see when flying over the historic city of Exeter, such as the quayside. There is plenty to do and see when visiting the quayside by foot and there is equally just as much to see from the air. Exeter Quayside is an industrial area of Devon that has a great history, some of which we will share with you as we soar above the attraction. There is plenty of unique architecture to admire along the quayside, as well as the spectacle of the body of water running alongside one of the most developed areas in Devon.
Exeter Cathedral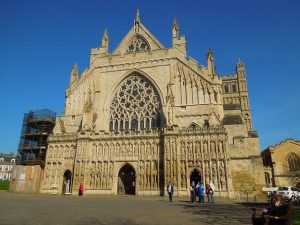 Onto one of the most, if not the most, impressive pieces of architecture in Devon; Exeter Cathedral. You may have experienced the delights of the cathedral from the ground, but seeing it from our hot air balloons provides an entirely perspective. Founded in 1050, Exeter Cathedral is a thing of pure wonderment. Fly high above a cornerstone of Devon and learn about the rich history associated with the very building that gives Exeter city status.
Join Us For A Devon Balloon Flight
These are just five of the attractions to see in Devon! There is also so much more to see, but we see these five attractions as a great place to start. Whilst on your balloon ride, our pilots can provide information on almost anything that is noted by passengers. Would you like to take to the skies, high above the glorious county of Devon?
Book your flight voucher online today or contact us to discuss a convenient time and date for your Devon balloon ride. Why not check out what our passengers think of us? Discover the Aerosaurus Balloons TripAdvisor page on which we have received 75 reviews from previous passengers.