Valentine's Day Balloon Flights and Balloon Flight Vouchers For Two
Love is in the air. Gift A Valentine's Champagne Hot Air Balloon Flight!
Hot Air Ballooning is widely regarded as one of the most romantic experiences to share with a loved one, floating gently along with the breeze whilst admiring beautiful landscapes below. Aerosaurus Balloons are offering romantic flight vouchers to give on Valentine's Day!
Our balloon flights are a truly memorable experience which you and your partner will cherish for many years to come – a once in a lifetime gift! Subject to suitable weather & ground conditions, we can fly you from Devon, Cornwall, Dorset, Somerset, and Wiltshire. Enjoy a 3 – 4 hour ballooning experience, celebrate with chilled Champagne and relax and enjoy the views!
You can even have your voucher delivered in a 'Balloon in a Box' gift package, a Valentine's helium balloon will float out of the bow wrapped box and attached will be your personalised gift voucher.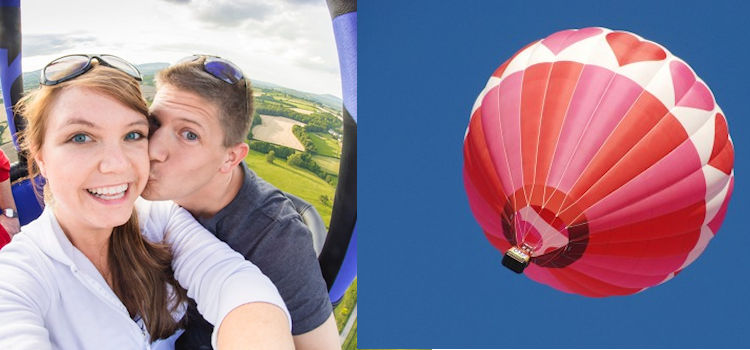 If you would prefer a more intimate experience or, if you are looking for a unique way to 'pop the question', talk to us about our small balloon hire. With this we can organise a private flight for just the two of you (plus the Pilot of course!) from any of our launch sites across the South West.
For more ideas on how to spoil your Valentine, read our guide to the ultimate romantic weekend in Devon!
Please remember that Ballooning is a very weather dependent activity and we cannot guarantee that we will be able to fly you on any specific day. If your flight is cancelled due to unsuitable weather or ground conditions, your vouchers will be valid for the remainder of the flying season (April – October) allowing you time to reschedule your flight. Our flight vouchers start from just £120 per person.