Hotel Information
Indulgence, romance and adventure tourism are all important elements of the domestic tourism market in the UK, particularly in the South West and South Coast, with over 11 million UK holidays a year including some form of adventure activity.
What activity encompasses all of the above? Hot Air Ballooning!
Aerosaurus Balloons have over 20 years experience providing champagne balloon flights with launch sites throughout Cornwall, Devon, Dorset, Somerset & Wiltshire, and provide tailor made experiences for corporate, groups & individuals.
By including ballooning in your hotel's list of 'Guest Activity Options' your guests may fly from one of our standard locations stretching from Cornwall to Wiltshire, with flights scheduled daily April – October. Alternatively, subject to suitability, we would be pleased to exclusive flights to your guests from your own grounds, providing a spectacle second to none.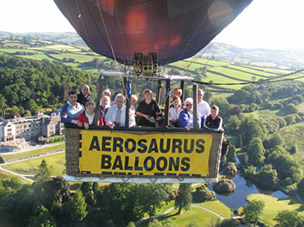 If the concept of offering your guests the opportunity of experiencing the unique activity of a hot air balloon flightappeals, please contact us and we would be happy to discuss your needs.
Call us on 01404 823102 or e-mail us for more information.
"There has been a growing interest in pursuing outdoor activities on holiday, due to a variety of factors such as an increased concern about health and fitness, an ageing population that is becoming more active and the fact that outdoor pursuits are more mainstream and fashionable than they used to be. Activities are also now seen as a way in which to relax and mentally unwind on a holiday"
Visit Britain