'The Father of Modern Hot Air Ballooning' Dies At 94
26th October 2020 Holidays
Don Piccard, the man who many deem to be 'the father of modern hot air ballooning', has died aged 94. In this article, we pay tribute to Don by detailing his life story and how he came to earn such a prestigious title from both those in the ballooning world and others looking in from the outside. Don died on September 24th in St. Paul, Minnesota, at the age of 94, having lived a full life etched with achievement and adventure.
A Background to Don Piccard's Life
So, why is Don Piccard dubbed the father of modern ballooning? To start with, let's provide a little bit of background on where he came from and how he grew up. Don was born on January 13th 1926, in Lausanne, Switzerland before moving to the United States with his parents when he was an infant. He was born into a family of renowned air and deep-sea explorers, making him seemingly destined to achieve great things by way of adventure.
Don was indeed from very good ballooning stock. Importantly, in 1934, his mother and her husband took off in a hot air balloon and achieved their objective of reaching the very edge of space, some 11 miles upwards. Don's mother was a trailblazer in every sense of the word. Her 1934 high altitude balloon flight saw her become the first woman to reach space in a balloon while she would later go on to become one of the first women to be ordained in America – she was an Episcopal priest at the age of 74.
The father of the 'father of modern ballooning', Jean-Felix Piccard, was born in Switzerland and worked as a chemical engineer. Jean and his twin brother Auguste played crucial roles in the design of the hot air balloon that would eventually see Don's parents reach the edge of space. Don was eight years of age at the time of his parents' incredible achievement and, whilst unable to go along for that particular ride himself, he sure was inspired to forge his own way into ballooning greatness.
Achievements, Feats & Notable Occasions
Don Piccard, one of the most famous hot air ballooning pioneers today, achieved all manner of accomplishments during his illustrious life. He was an innovator, a manufacturer at times and above all a champion of hot air ballooning. We take a look at some of just some his life achievements:
Don Piccard attended the University of Minnesota and Swarthmore College.
He served as a balloon and airship rigger throughout World War II, as part of the Navy.
In 1947, at the age of 21, Don hit the headlines. His balloon flight in a salvaged Japanese Fu-Go balloon over Minneapolis, which lasted two hours was big news. It was such big news namely because he was flying in a Fu-Go (hydrogen filled), an enormous paper balloon that was initially loaded with explosives and sent across the Pacific by the Japanese during World War II. Only a few were retrieved by the US military and Don took to the skies in one.
In 1962, Don organised America's very first hot air balloon race. It took place in his hometown and was part of the 1962 St. Paul Winter Carnival. The race started on a frozen White Bear Lake. In 2012, Don recreated the balloon flight, 50 years on.
In 1963, Don and his companion Ed Yost became the first people to cross the English Channel in a hot air balloon. The flight was essentially a terrific success, however the duo were involved in a rather hairy landing. Don later said that this was the closest he had come to being killed.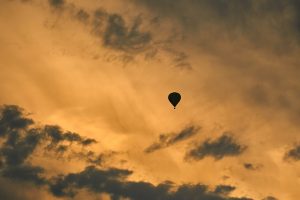 In the 1950s, Don was involved in a similar near miss. Whilst flying with his wife and others at 4,200 feet, the fabric of his balloon ripped and the group began descending towards the ground. After missing power lines, going through an asparagus field and a field of barley, the balloon came to a halt. His wife suffered a broken leg and foot whilst another passenger suffered broken toes.
Shortly after that incident, Don set out to design and manufacture his very own balloons. They were renowned for their impressive shape, wicker baskets and load tapes; an innovative safety that secured the fabric seams.
In 1968, a balloon designed and made by Piccard made pop music history! Famed musician Jimmy Webb took a balloon ride in one of Don's balloons before making the hit song 'Up, Up and Away'. The song went on to win several Grammys.
The National Balloon Museum – which is situated in Indianola, Iowa – gave Don the name of 'the father of modern hot air ballooning'.
Celebrating A Pioneer of Hot Air Ballooning
We hope that you've enjoyed our celebration of the life and times of such a pivotal figure in the history of ballooning. Don Piccard and indeed the entire Piccard family achieved so much in those early ballooning years and we, at Aerosaurus Balloons, are pleased to have brought you an educational – and hopefully inspirational – piece on this subject.
Please contact us if you would like to book a hot air balloon ride in the South West of England. Our team is here to not only provide you with first class ballooning experiences, but a wealth of information on the flight locations that we cover and the history of ballooning.