It's Nearly Tiverton Balloon and Music Festival 2014!
9th July 2014 Events
We're rapidly approaching the weekend of the eagerly-awaited Tiverton Balloon and Music Festival 2014, and at Aerosaurus we can't wait! This three-day extravaganza from the 11th to the 13th of July features dozens of brilliant balloons, musicians and activities. We'll be flying some of our biggest and best balloons at the festival, along with showing visitors how it all works…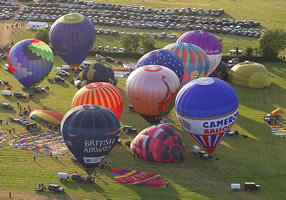 ---
The Tiverton Balloon and Music Festival has been running every year since 2010, hosting a number of impressive balloons, along with talented performers and entertainers over three magical days. Every year the event gets more exciting, and 2014 is set to be better than ever! We're taking two (and maybe more!) of our top balloons along this year to fly across the Devon landscape during the kaleidoscope display of the wonderful mass ascents with over 35 other balloons, and later lighting up the skies in the true spectacle that is the Fire and Light Show. We'll also be running some interactive activities and competitions so you can learn all about what it's like to be a balloonist!
A festival for all the family!
But it's not just balloons, there is so much to do for all the family. From leading UK musical talent and budding local acts performing on the Main Stage and Origins Stage to circus skills workshops, to falconry and model helicopter stunt displays, there's something to amaze all. We're even hosting a very exciting Alternative World Cup, which is perfect both for those wanting to keep in the sporting spirit, and those who just want to get away from all of the football fuss.
The atmosphere at the festival is relaxed, but buzzing at once. To feel a thrill, why not try out archery or one of the awesome African and Japanese drumming workshops at the Chai Chapel? Or, to stimulate your mind, try out one of our STEM activities to learn about science, technology, engineering and maths in a fun workshop – but remember to pre-book, as they are very popular!
Along with all this and much, much more, we've got an array of the South West's best local foodsmiths and drinks companies holding stalls in our Food and Drinks Festival. From hog roasts to crepes, smoothies to ciders, there's guaranteed to be a dish and a drink to satisfy your stomach at this year's festival.
So, if you haven't got your ticket yet, don't hesitate, buy one now and get involved! This really is the Devon event of summer 2014, and will provide three whole days of family entertainment for only £15. What could be better than balloons, music, food and fun? We look forward to seeing you there…