'Mile-High' Ballooning Club
22nd May 2012 Events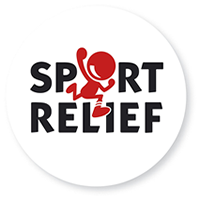 'Sport Relief' is a biennial charity event organised by Comic Relief, in association with BBC Sport and its purpose is to bring the nation together to get active and raise money to help people living tough lives worldwide. At the heart of the campaign is the 'Sport Relief Mile' which sees people from all backgrounds raise money through sponsors for walking, running, swimming or cycling a mile.  The money raised is put towards a variety of good causes, such as transforming the lives of people in the UK's most disadvantaged communities, providing support for people who suffer from mental or physical health issues and providing healthcare and stability among some of the World's most poverty stricken regions.
This years' events were held across the UK from Friday 23rd March – Sunday 25th March and as per usual, they received a positive response with over a million people participating in fundraising activities and the 'Sainsbury's Sport Relief Mile'. Now, here at Aerosaurus Balloons we're always happy to help a good cause and as such, we decided to do our own Sports Relief Mile in true Aerosaurus style!
We had two flights scheduled for Sunday 25th May and we decided it would be fun to fly all our passengers up to an altitude of 5,500ft, just over 1 mile high.  On reaching this altitude, the pilot then took several in-flight photos of everyone in the basket using our remote-controlled camera which is attached to the balloon.  We offered to send a copy of the photos free of charge to all passengers in return for a small donation towards Sport Relief, on the promise that Aerosaurus Balloons would double whatever was raised between the two flights!
The first flight was scheduled to meet at the Terrace Playing Fields, Sherborne at 7:15am on Sunday morning and we had 9 passengers keen to experience our lighter than air travel.  It was an absolutely stunning morning with clear skies and the sun beating down on the morning dew.  After a short brief from the pilot, the passengers were driven to a suitable launch site and before long the balloon was inflated and ready for take-off!  After about 15 minutes of flying the balloon reached its target height of 5,500ft and the passengers enjoyed a champagne toast while posing for photos.  Shortly afterwards, the balloon began to descend and they ended up landing shortly before 9:30am
The second flight was scheduled to meet at a private location near Yeovil 4:45pm and we were greeted by another 10 passengers all eager to take advantage of the beautiful weather.  Before long the balloon was in the air and nearing its target altitude of 5,500ft.  Once again the passengers enjoyed a champagne toast and posed for photos in the warmth of the afternoon sun, before descending and eventually landing at around 6:45pm.
We Thank All For Making The Flight Memorable
Overall we flew a total of 19 passengers ranging from 8 to 73 years old and managed to raise £110 which, as promised, was doubled to £220 by Aerosaurus Balloons! Over 1 million people took part in fundraising activities nationwide, helping to raise more than £ 52 million for Sport Relief over the course of the weekend.  We would like to thank all those involved including our passengers, pilot, ground-retrieve crew and of course the weather for providing us with such wonderful flying conditions!  We have posted photos from the event on the Sport Relief website and these are also available to view on our website under 'In-flight Photos'