New for 2011 – The Northern Ireland Hot Air Balloon Festival!
20th July 2011 Events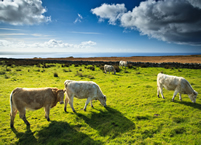 Lisburn will be hosting the first ever three-day international hot air balloon festival in Northern Ireland on August 27th – 29th. Just outside Belfast, the Northern Ireland Hot Air Balloon Festival will host up to 30 balloons, with lots going on over the weekend for all the family. Highlights include morning and evening mass balloon ascents, tethering, public interaction sessions and hot air balloon 'Night Glows'. There will also be a fun fair, live music throughout the day and a delicious artisan food festival.
The Venue & Ticket Prices
The festival will be held at Moira Demesne, a large public park approx. 10 miles outside Lisburn and over 10,000 people are expected to attend over the three days. Tickets are £10 per adult and children under 16 are free of charge (when accompanied by an adult).
For more information contact the Lisburn Tourist Information Centre on 028 9266 0038. For any ballooning teams interested in taking part please contact Aerosaurus Balloons at mail@northernirelandballoonfestival.com. The closing date for applicants is July 10th 2011.
Please be aware that all ballooning festivals are subject to the correct weather conditions and balloons may be unable to fly in bad weather.