4 Landmarks to See On A Balloon Ride In Tiverton This Summer
12th July 2022 South West
There's nothing like spending time outdoors during the summer in Devon. Clear blue skies, gentle breezes, and of course, warm golden sunshine lighting up the countryside. The only thing that could possibly make this season any more delightful is a new perspective with which to appreciate it. To that end, why not consider a Balloon ride in Tiverton this summer? Our Tiverton meeting point, easily accessible on the A361 link road, can take you soaring over many iconic landmarks that are some of our favourites in the Mid Devon countryside.
Tiverton Balloon Rides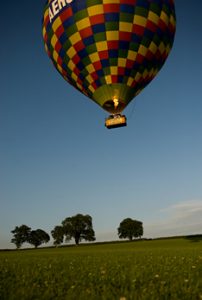 Any of our balloon flight vouchers is well spent with a balloon ride over the Tiverton area. This historical Saxon settlement, situated on the Rivers Exe and Lowman, truly is best appreciated from high up in the summer sky. The busy market town is home to a number of stunning landmarks that can be seen in all their beauty from the air. Here are our 5 favourites:
Tiverton Castle
Tiverton Castle is one of the most well known features of Tiverton, and stands out even when exploring the town by foot. On a Tiverton Balloon ride, it lurches out of the surrounding buildings all the more. This stunning, ancient castle dates back all the way to 1106 when it was first constructed by Henry I. Since then, it has been a part of many monumental moments of Devon history, including being home to the powerful Earls of Devon in the Medieval era and being besieged and eventually taken by Sir Thomas Fairfax during the English Civil War.
While the remaining structure can be a joy to experience on land, it's from the sky that a true appreciation of its significance can be gleaned. Seeing the remaining walls from a bird's eye perspective allows you to really get a sense for how imposing the structure was, and why it was considered such an important building throughout its history.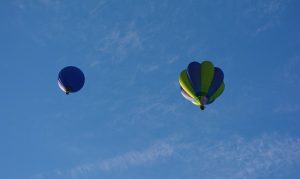 Grand Western Canal
The Grand Western Canal is a must see on a Tiverton Balloon Ride. Not only for its beauty, but because its length means it would be difficult not to see it! The full 11 mile length of this serpentine canal is home to an impressive 24 bridges criss-crossing its surface. It was originally built to transport lime, but in the modern day it serves as an idyllic nature reserve.
From on high, you may see the many birds that the canal is now home to, or perhaps canoers or kayakers making their way up the current. If you're lucky, you may also be able to spot visitors being ferried from bank to bank on painted barges drawn by majestic shire horses.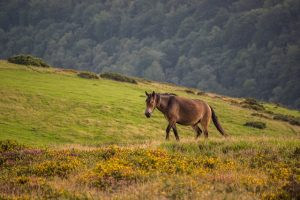 Knightshayes Court
Just outside the town lies the stunning Knightshayes Court, one of the most impressive Gothic revival houses still standing and one of our favourite sites on a Tiverton balloon ride. Constructed in 1869, this incredible building is surrounded by more than 250 acres of charming parkland & woodland, offering a true treat for the intrepid aerial explorer.
In addition to experiencing one of the most important collections of Douglas fir trees in England, a balloon flight over Knightshayes court will also carry you over Knightshayes' formal & woodland garden. This includes a two and a half acre walled kitchen garden and an unbeatable view of one of England's great post-war gardens.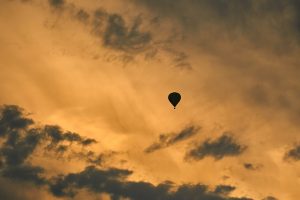 The Mid Devon Show
If you're fortunate enough to plan your Tiverton Balloon Ride for late July, you might be able to experience the Mid Devon Show from high in the air. This is a popular annual celebration of Mid Devon life with a huge amount of entertainment, local history, produce, music and anything else you can think of for its visitors. Taking in the festivities from the air could make this year's show one you never forget.
Even if you're not able to see the show itself on your balloon ride, there is a large farmers market held regularly in the town centre to offer a much more peaceful window into rural life in Mid Devon that you can appreciate to the fullest from high up in a balloon.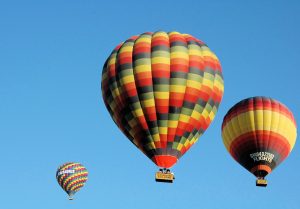 Balloon Rides In Tiverton With Aerosaurus Balloons
Whether you're celebrating an anniversary, a birthday, or are planning to make Mother's Day special with a Devon balloon ride next year, a balloon ride over Tiverton and its many landmarks is such to make any occasion one to be remembered for a long, long time. For those based elsewhere in the South West, we also offer equally majestic balloon flights over the area, including in:
If you would like to learn more about our balloon flights over Tiverton, Devon, or any of our other locations, please contact us on 01404 598251 or by email at mail@ballooning.co.uk. One of our friendly team will be happy to answer any questions you may have. We look forward to welcoming you to the skies someday soon!