A New Challenge For Local Activity Club!
31st August 2011 News
Members of the Women's Challenge Club, a Devon-based women's activity club, recently enjoyed a balloon ride with Aerosaurus Balloons. Here's one member's account of the experience…
On the evening of Sunday 21st August six members of the club took a balloon ride from Cornwood, near Plymouth, to a field somewhere in the South Hams!
For everyone it was a first and, I must say, thoroughly enjoyable experience. I thought I'd be nervous but Arthur and his team were so relaxed and got us helping to set up the balloon, so that when it came to actually boarding the basket it seemed just the natural thing to do. A couple of jolts as the hot air was blown into the 'envelope' (as the actual balloon is called), then the tie rope was released from the basket and we were suddenly in the air. It was so quiet except for the occasional burst on the burners although we could hear dogs barking in the farms below. We travelled at 14 miles per hour and reached a height of 3,300 ft although we didn't stay at that height for very long as the wind was taking us toward the sea.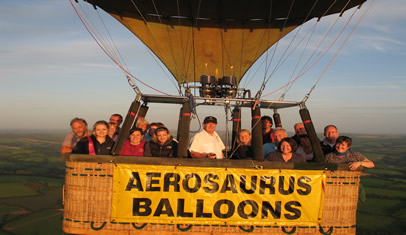 Stunning Views
Everything looked green and tidy, Dartmoor didn't look as big as I thought it might and the sea at Torbay was starting to loom large as we landed in a cornfield near Harbertonford that was actually being harvested at the time!
The landing, although a bit bumpy, and packing away of the balloon equipment, was good fun and everyone joined in rolling around on the 'envelope' to try and dispel the air. Even the farmer and his family joined in as they'd come to see what on earth was going on.
A drive back to Lee Mill where we had left our cars, presentation of certificates and a celebratory drink finished off a really pleasant evening. Something I would definitely do again!
For more information visit Women's Challenge Club or contact our friendly team.