A Summer of Brilliant Balloon Flights in Cornwall
18th August 2014 News
Cornwall is possibly the most iconic tourist location in the UK. Think of the seaside county and you imagine Cornish pasties, golden sands and luscious countryside. This and so much more is what makes Cornwall unique. What better way to experience the spectacular landscape and striking coastline of this distinctive area than with a balloon flight in Cornwall? Ascend up into the air with the balloon and let the natural processes of the gentle summer breeze carry you across the centre of this beautiful country.
Cornwall balloon flight sights
With famous landmarks such as Lizard Point, Rocky Valley, King Arthur's Castle and Geevor Tin Mine, Cornwall has a bountiful history that is visible from both land and air. Having recently gained its independence, Cornwall is very proud of its Celtic routes. The Cornish language, Kernewek, although no longer commonly spoken, descends directly from the prehistoric language spoken by Celtic settlers in the area.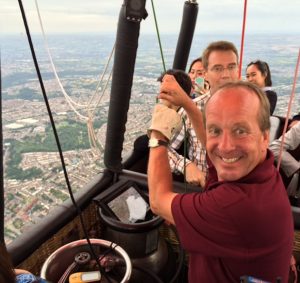 An impressive one third of the Cornish region is officially recognised as having Area of Outstanding Natural Beauty, so with a balloon ride in the area there will be plenty to see. Glide over the famous Bodmin moor which has inspired so much folklore and art, gaze at medieval castles such as King Arthur's in Tintagel, or take in the awe-inspiring sights of Lundy Island from above, which is home to a unique microcosm of wildlife right on the South West shores.
Ballooning in Cornwall with Aerosaurus begins within the areas of Bodmin, Launceston, Bude, Okehampton, Tavistock and Liskeard. With bustling market towns, vibrant seaside towns and beautiful landscapes, you will be able to experience traditional Cornish life at its best with a hot air balloon ride in Cornwall.
Beautiful weather for balloon rides in Cornwall
Cornwall is experiencing a scorching summer of great weather, which is always good news for anyone interested in a balloon flight. Balloons can't fly in too high heat, but typically sunny days mean still, dry mornings and evening which provide the perfect weather conditions to fly in. Not only this, but blue skies create clear views with high visibility of the beautiful landscape.
Now is the perfect time to experience why Cornwall is famed for its beauty worldwide. To do so in hot air ballooning style, check out our flight availability or contact us on 01404 823102 for more information!