Ballooning for Businesses: Team-Building in the Skies
29th September 2014 News
Corporate hot air balloon flights are an activity that features on almost everyone's 'bucket list'. Soaring up above the landscape, watching the landscape below turn into a beautiful panoramic model world and gazing into the sunset is something that many people aspire to do. In fact, research has shown that balloon rides are one of the top ten lifetime experience goals people hold in the UK. Ballooning is truly an activity like no other, and one that everyone should try out at least once. However, it also serves a number of other very positive purposes. One of these fantastic benefits of ballooning is business building.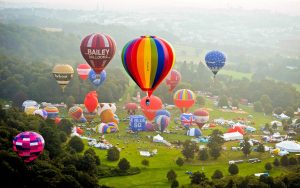 Balloon flights are great for almost every business event you could think of. Perhaps you are looking for a team-building activity to help new employees bond with your workforce. A balloon flight is fantastic for this because it is a fun activity that the team will enjoy, but it also makes people work together. The rigging process, where the crew set up the balloon and get it inflated before takeoff, and the de-rigging procedure, where we roll all of the air out of the balloon and pack it up, is a laughter-filled experience that really gets everyone co-operating and building friendly but productive relationships. This sense of involvement in the activity and pride from having made it all happen is very positive for working teams.
Maybe you are looking instead to reward your staff for a particular achievement, company anniversary or at the end of the year? Ballooning is an awesome experience that everyone will enjoy. Of course, the rigging up and down is still a lot of fun, but then there is also the flight itself. This is a relaxing and awe-inspiring experience that will allow your employees to bond over the beautiful views as a sense of calm fills everyone – great for a bit of down-time after a busy time in the office.
Create long lasting impressions
It's not just within your workforce that a balloon ride can be so effective. If you are looking to partner up with another company or score a big new client, a balloon flight is the ultimate way of impressing them to get them on your side. Our champagne balloon flights are an amazing way of showing your future customer that you are attentive and professional. If you treat them to this incredible experience they are bound to want to work with you.
Our recent corporate passengers have included:
Peugeot
Calibre Recruitment
Express & Echo
Ford
Morgan Stanley
Eventscape
Unilever
Bentley
Nuffield Hospital
Bovey Castle Ltd
Tresanton Hotel
Supercat Ltd
Here at Aerosaurus we have 25 years of experience in providing the highest quality of champagne hot air balloon flights across the South West. Whether you would like to fly over any of our meeting locations, from Cornwall and Devon, to Somerset, Dorset and Wiltshire, we can craft you the perfect experience to help you boost your business and show your employees or clients that you value them. We may even be able to fly you from your own location if it is suitable, and can provide customisable options, too.
Aerosaurus Balloons have multiple balloons in our fleet of many different sizes and colours, and can provide team building experiences and mass balloon launches for up to 100 participants at once. We can even appear as a backdrop for corporate events to add glamour and interest to your cause, even providing flights for guests if the weather is suitable. If you would like any more information about our corporate flights, please feel free to call us today on 01404 823102 and we can arrange the ideal business flight for your company.