Charities Flying High with Funds Raised at Tiverton Balloon Festival
11th July 2011 Events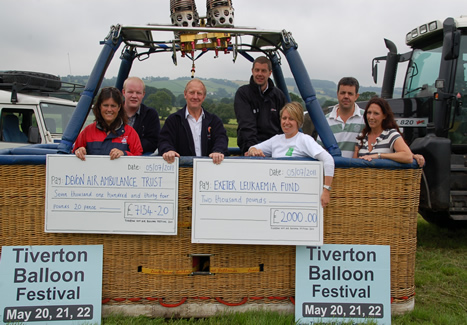 Over £10,000 was raised for local charities, clubs and organisations from the inaugural Tiverton Balloon Festival which took place at the end of May at Hartnoll Farm, Tiverton. All profits from the event were distributed, with the festival's key beneficiaries – the Devon Air Ambulance Trust and Exeter Leukaemia Fund – receiving the majority of the funds.
£7,134.20 was raised for the BBC Radio Devon Air Ambulance Appeal. Caroline Creer, Fundraising Director for Devon Air Ambulance Trust, accepted the cheque and commented; 'We are always amazed at the ideas the community comes up with to raise funds for us. The Tiverton Balloon Festival was a huge success and raised a fantastic sum of money. Many thanks to all at Aerosaurus Balloons for organising the event and thanks to everyone who came along over the weekend.'
Exeter Leukaemia Fund was over the moon with their cheque for £2000. A further £1,300 was presented to local air, sea and police cadet corps, and to various ballooning and model aircraft clubs who assisted over the course of the weekend.
The First Hot Air Ballooning Event In Devon
The festival was the first hot air ballooning event in Mid Devon since 1988, and brought over 12,000 people to the local area for a weekend of magical hot air balloon mass ascents, public interaction sessions, an evening night glow spectacle, and family entertainment.
Arthur Street, Event Director, said; 'Our main objectives for this not-for-profit hot air balloon festival were to raise money for local charities, introduce ballooning to the public, and give a boost to the local tourism industry. We are thrilled that we achieved these aims and exceeded our expectations with the amount of funds we raised for charity. The event would not have been possible without support from our sponsors – BP, Heathcoat Fabrics, Media Street Ltd, and Jo Amor Tiverton. We're also extremely grateful to the local community, the Mid Devon Show Society, Tiverton Town Council and Mid Devon District Council for their support.'