Could Hot Air Ballooning Take to Outer Space?
8th August 2014 News
Hot air balloon rides are thought of as a gentle, relaxing way to spend time. Gliding over the countryside in the early morning or evening sunshine, gazing at the patchwork quilt of fields embroidered with quaint houses and striking historical monuments… the ultimate calming experience. However, one ballooning company has a different idea, hoping that in the future ballooning could become more crazy with flights becoming available in outer space!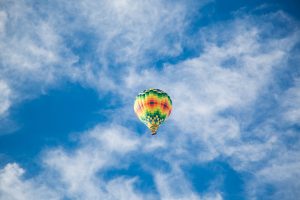 The company are aiming to send passengers up to high altitudes by 2016 after a successful test flight in Roswell which set a world record for the highest parafoil flight in history. This flight occurred on the 18th of June and took a whopping five hours. The balloon rose to 120,000 feet, with a view of space, before descending 50,000 feet and transforming into a parafoil – an aerodynamic cell structure inflated by the wind. Usually, parafoils would be set off at 30,000 feet.
A spokesperson said that their aim is to provide passengers with the sight of the world as a globe framed against the blackness of space. This contraption has been in development since 2011 and was first tested in June, but was actually only 10 per cent of the size the final balloon will be. The idea is a two-hour 'sailing' experience with 360 degree views of the Earth and space, launching at dawn and watching the sun rise over the world.
Although similar flights have been in the pipeline from Virgin Galactic for some time, these are exciting for those wanting to experience space from the atmosphere. However, at about £44,000 for an 'introductory flight', the rides will be far from cheap and way out of the price range for most us.
A Ballooning Adventure in the South West
If, like us, you can't rustle up £40,000, a balloon ride across the South West is a great alternative, and, judging by our passengers' feedback, just as thrilling. With us, a balloon ride is a miniscule fraction of the price of a space flight, and has many other benefits.
The South West is one of the most stunningly beautiful areas of the world, and this beauty can be much better experienced from closer up than from space! This sprawling colourful meadows, flourishing forests, sublime seas and striking historical monuments including Stonehenge, which, incidentally, can be seen from space, but in nowhere near as much detail!
A South West UK balloon flight is also much, much safer, balloons having been used as a form of air transport for centuries and our pilots all fully qualified with the Civil Air Authority. Complications – safety. This is the traditional experience that you've got to try once in a lifetime, with surprises such as seeing birds of prey from above for the first time.
Of course, these scientific developments are very exciting, but for now we're happy to soar over the South West in style with the gentle sunshine and gorgeous views any day!