Hot Air Balloon Rides From Boconnoc Steam Fair
29th June 2011 News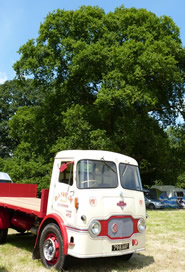 Boconnoc Steam Fair will be returning for another year of family fun on July 22nd, 23rd and 24th at Liskeard (in Cornwall) and we're pleased to announce that Aerosaurus Hot Air Balloons will be providing hot air balloon rides to visitors at the event.
Book A Balloon Flight At The Fair With Us
Showcasing steam engines, classic cars, vintage motorbikes, and lots of other exhibits including craft stalls, horticulture, and model marquees, there's plenty to enjoy for all the family. Also at the fair will be a fully licensed beer tent, steam hauled trailer rides, helicopter pleasure flights, and a fun fair – so something for everyone! For further information on one of the best steam rallies in Cornwall, visit LSVC.org.
If you would like to book a balloon flight at the fair for the evening of July 22nd or 23rd, please call 01404 823102 or email mail@ballooning.co.uk. Passengers will meet at 18.15 and the experience will take 3 – 3 1/2 hours.
Please note that these flights are not available to existing Aerosaurus Balloons customers. Contact us to find out about deals for existing customers.