Hot Air Ballooning – It's Not All About Flying…
10th January 2013 News
You may think that during winter months many of the hot air ballooning community either go into hibernation until the next spring or 'fly south for the winter'. Well, nothing could be further from the truth here at Aerosaurus Balloons, because we like to keep ourselves busy with a wide variety of activities in preparation for the start of the forthcoming flying season, such as balloon and vehicle maintenance, equipment checks and updating flight maps to name but a few. Don't worry though….it's not all hard work and elbow grease!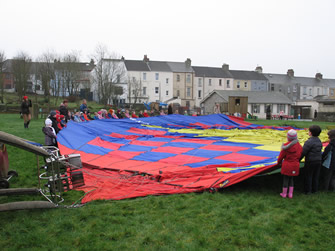 Aerosaurus Balloons also offer structured school visits incorporating both education and fun. We can bring a hot air balloon to your school or college to demonstrate and discuss the principals of hot air ballooning, how the balloon is inflated, what it is like to fly a balloon and how you go about 'steering' them! We incorporate subjects such as navigation, meteorology, physics and geography and demonstrate them in an easy to understand manner tailored to the age of the children. Subject to weather, we also invite the children to assist with opening up the balloon and cold inflation and if suitable, follow that up with hot inflating until the balloon is standing upright and ready for take-off! We then allow the children to get in the basket so they can have their photos taken.
Our Visit To Weston Mill Primary School
Our most recent outing was on Wednesday 9th January when we visited Weston Mill Primary School in Plymouth. Upon arrival, we were greeted by more than 100 excited children and their teachers, all eager to see a hot air balloon up close and learn more about 'lighter than air' travel. Fortunately we were blessed with a very still morning, with no surface winds and despite a lack of sunshine, almost perfect conditions for inflating a hot air balloon.
The children received an introduction to hot air ballooning by their pilot, Arthur and before long we began to unload the balloon. The children were then invited to assist with rigging and cold-inflating the balloon before taking a step back to marvel at the sheer size of it. After a quick look inside the partially inflated balloon, the children then retreated to a safe distance where they could watch the pilot heat the air inside the balloon using the magnificent burners. Once inflated, the pilot invited small groups of children to climb into the basket and experience the sense of 'floating' just above ground level.
Having treated everyone (teachers included!) to a short ride in the basket, it was then time to start deflating the balloon and to help squeeze the air out, so we invited the children to lie down on the balloon and roll like a sausage towards the open end of the balloon. Needless to say this resulted in many giggles and a quick, efficient way of ensuring all the air was dispersed.
If you are interested in hot air ballooning, or would like to know more about our school visits, please contact us via our website or alternatively contact our office direct on 01404 823102.