Hot Air Ballooning Present for Dad
22nd May 2014 Holidays
Are you looking for ideas for dad this Father's Day? With an Aerosaurus balloon flight, you could give your dad not only a present, but a timeless memory that he will never forget.
Seeing an air balloon fly across the sky is one thing, but being up in a balloon flight seeing the world pass underneath you is mind boggling. You and your dad can view the wonderful countryside wildlife from among the grassduring take-off. Then all you have to do is relax and watch the fields turn into a patchwork quilt of greens and yellows.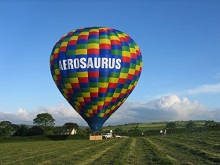 ---
What better gift for dad than to de-stress and have a break from the busy world down on the ground? On an air balloon flight, he can transcend the daily jobs from among the clouds, and you can spend some quality time with no distractions besides the stunning 360 degree views, maybe even with a glass of champagne.
Our balloon rides take place on days when the weather is stable with winds of less than 12mph and clear visibility, led by certified pilots so both you and your dad can be rest assured you are in very safe hands. We offer a range of flight types across Cornwall, Mid and East Devon, South Devon, Wiltshire and Dorset, so we're sure we can find a flight arrangement to suit you.
See our range of Hot Air Balloon flight vouchers.
Buy Your Dad A Ticket To The Tiverton Hot Air Balloon Festival
You could even buy your dad a ticket to the Tiverton Hot Air Balloon and Music Festival 2014! Would your dad love to see a fantastic, colourful display of hot air balloons soaring through the skies whilst eating some delicious local food, maybe drinking some local Somerset cider and listening to some amazing tunes? Then this is the perfect present for him. From Friday 11th to Sunday 13th of July your family could treat dad to a weekend of awe, indulging the tastebuds and dancing to some of the country's best musical acts.