Jaw-dropping Balloon Flights in Devon
12th September 2014 News
Devon is a famous holiday location across the UK for those wanting to retreat from the bustle of the daily routine and enjoy a more relaxed pace of life. For many, Devon means farming, countryside and beaches, but there is so much more this magical county has to offer. With several recognised Areas of Outstanding Natural Beauty, quaint traditional villages and a rich history visible wherever you go, Devon is a truly unique area. Experience all of its wonders with a balloon flight in Devon.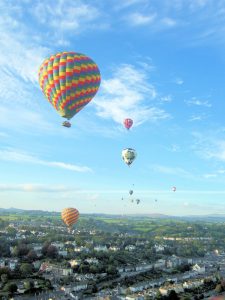 Balloon flights over Mid and East Devon
There are several options when it comes to booking a balloon ride in Devon. We run regular balloon flights in Mid and East Devon, which are incredibly popular with passengers due to the dramatic landscapes they provide a portal to. There really is no better way to see the Devon countryside than from up in a hot air balloon, where you can gaze down on spectacular cliffs, towering hills and rolling heaths covered in purple heather. See historic areas in East Devon such as the Jurassic Coast World Heritage site or become at one with nature flying over Mid Devon's gorgeous Wooded Combes.
In Mid Devon, fly across an area between the famous Dartmoor and Exmoor, home to many ancient myths and much natural history. You will be able to view landmarks such as Castle Noroche and the Grand Western Canal. In East Devon you can see stunning sights such as the Old Harry rocks from afar, and glide over the Blackdown hills.
Balloon rides in South Devon
South Devon and the South Hams are thought of globally as outstandingly beautiful natural areas, and are protected as such. 60 miles of majestic coastline and rivers weaving across the countryside which has maintained its traditional essence for centuries, providing a gateway into British history. A balloon flight in South Devon is like floating over a microcosm of natural history full of stories, both treasured and untold.
South Devon and the South Hams enjoy a very mild climate across their rolling, sheltered hills. View a rainbow of intense colours in the landscape. See the red sandstone cliffs of the Exe valley in all their splendour, watch in wonder as the granite slopes of Dartmoor pass between you with hundreds of years of history in their grains. South Devon boasts beautiful woodlands, ancient stone circles, tors and castles across several iconic valleys and bays.
An untouched area of legendary status worldwide, Devon is one of the UK's most desirable ballooning locations. To experience the nature, wildlife and charming culture of Devon for yourself, take a look at our flight availability today and book yourself in for a balloon flight you will never forget.