Making Hot Air Ballooning Safe in the West Country
29th July 2008 News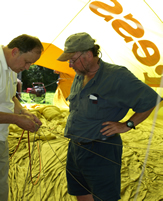 As an on-going commitment to hot air ballooning, especially in the West Country, Aerosaurus invited Dave Seagar-Thomas to come down to its Exeter base on Saturday to help increase safety on privately owned balloons by renewing their C of A's (Certificate of Airworthiness).
A C of A has to be carried out on a balloon every year or 100 hours it is in the sky. This check is very important and helps to ensure that hot air ballooning is kept as one of the safest air sports out there!
Dave inspected both Hugh Stewart's and Mandy Dickinson's balloons throughout the afternoon for any problems/weaknesses that may have occurred since their last check. Hugh, a private pilot got both of his envelopes, a 77,000 and a 90,000 cubic feet envelope inspected as well as his basket. Whilst Mandy (an Aerosaurus pilot) got her balloon checked out as well.
Safe Hot Air Balloon Flights
Both balloons passed for another year and we congratulate both Hugh and Mandy for keeping their balloons up to the European Aviation Safety Agency high standards. Check out our flight locations for an idea of the places we fly over in the West Country.