The Countdown to Christmas is on!
12th December 2018 Holidays
It's beginning to look a lot like Christmas in the Aerosaurus Balloons office! Our team are ready for the rush of last minute Christmas orders. We have already started sending out our Champagne Balloon Flight Vouchers by email and post and started the list for Balloon in A Box deliveries.
If you've decided to get that special someone a Hot Air Balloon Flight experience for Christmas, then you've come to the right place. Whether you order online early or you're still deciding – we are here until 21st December 2018 to take your orders and send out your vouchers in time for Christmas! You have three delivery options which are a printable e-voucher package (sent instantly), 1st class postal package or our Balloon In a Box – a red candy stripped box wrapped with a big red bow makes the perfect gift to go under the tree. Unwrap it to discover your adventure, beginning with a helium balloon floating out to surprise your loved secured by a ribbon wrapped gift envelope.
Our deadline for postal orders and balloon in a box gifts is Thursday 20th December 2018, but and our emailed voucher orders can be taken 24 hours a day, even on Christmas day!
Treat your loved one's or yourself to a flying experience, we have voucher options to suit all budgets, take a look here – we are sure you will find an experience you and you're loved ones can't wait to take come spring! You can book online or call us on 01404 823 102 where our friendly office team are ready to answer any of your questions and confirm your booking.
A few things we want to make sure you know when know when booking a flight voucher with Aerosaurus Balloons:
Our main flying season is April to October, so your 12 months voucher is valid for a full flying season. Once you've received you voucher please feel free to book a flight date online or just give our office a call and we can schedule your flight for you (subject to availability and suitable weather).
Our flights cover the whole of the South West launching from Dorset, Somerset, Devon, Wiltshire and Cornwall – for an overview of the locations we launch from click here
Remember that you can add In-flight photos to your Champagne Balloon Flight vouchers to commemorate your ballooning experience.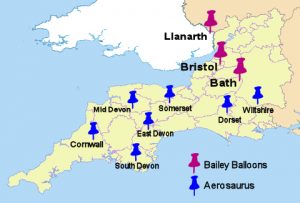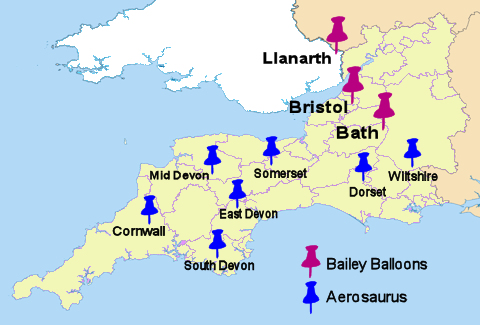 Our Reviews
We look forward to flying all our passengers and we look forward to flying you in the South West – just read some of our recent Trip Advisor reviews and you'll be reassured that our team is there to make sure you have a wonderful hot air balloon flight experience.
"Just wanted to write a review say thank you so much for our balloon experience, we thoroughly enjoyed the whole morning from start to finish, My husband thought it was great helping inflate the balloon (I took lots of photos of him actually working hard)! 
It was a great experience for the whole family, the team all made our 11 year old son feel so at ease and part of things (how great to tell his mates he stood inside a hot air balloon while it was on its side being inflated).
I'm scared of heights but I did not feel scared at all during the flight it was very calm, quiet and relaxing, I've been telling my friends all day how amazing and peaceful it is up there!" 
So, for all of us here at Aerosaurus Balloons, we wish you all the best this season and we look forward to flying you in 2019!