The World's Most Awe-Inspiring Balloon Rides
12th August 2014 News
Balloon rides are one of the most spectacular ways to view the wonderful world we live in. Every country is full of its own surprises, nooks and crannies, and ballooning almost anywhere can give you a refreshed view of your surroundings. Ballooning takes to the skies all over the globe at some amazing locations. Here are our top ten incredible places to go on a balloon flight worldwide.
---
10. North Pole
Recently balloon lovers have been able to go on an Arctic hot air balloon ride for the first time as part of a voyage to the North Pole. See the stunning snow-covered expanse of land in glimmering beauty, as the sun shines off the ice to light up the area. You could even spy some of the unique species that roam the ices, which is an experience you will never get in such a way anywhere else!
9. Gstaad, Switzerland
Did you always dream of escaping to Narnia? Well, Gstaad in Switzerland isn't too far from just that. Majestic snow-dusted mountains of huge proportions set against vivid blue alpine skies make up the incredible architecture of the Swiss countryside. Gaze down at quaint Nordic chalets and just take in the amazing structures that nature can craft.
8. Serengeti National Park, Tanzania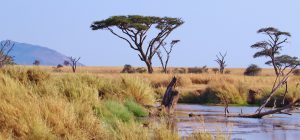 Serengeti National Park in Tanzania sees the world's largest mammal migration every year. A balloon ride in the plains somewhat resembles a safari – but from the air. You will get the chance to see some of two million wildebeest, 500,000 gazelle, and 250,000 zebra on this crazy flight, among other wild animals.
7. Cappadocia, Turkey
If you've ever dreamt of visiting the moon, this is about as close as it gets without an intergalactic mission! Cappadocia features lunar-style rock formations, as well as eye-catching subterranean churches, limestone chimneys, and beautiful homes carved out of the rock itself. Scattered around the futuristic landscape are gorgeous green vineyards.
6. Yarra Valley, Australia
If you're a fan of Australian wine, you may have heard of this amazing region. Situated near Melbourne, a balloon ride in the Yarra Valley involved soaring over undulating rolling hills, lush vineyards, and the impressive Great Divide on the horizon. This entrancing landscape will take you through a dream of the secluded Australian countryside, and you may even see some of the country's unique wildlife!
5. Bagan, Myanmar (Burma)
Bagan Myanmar in Burma is an area unlike any you will have ever seen. Studded with spectacular pagodas, you can fly above the ancient city at sunset or sunrise, taking in the pure wonder of the architectural prowess of these ancient civilisations with incredible temples and city structures from thousands of years ago that look as though they have been carved out of the landscape by the most skilled sculptor.
4. Dubai
For a truly exotic experience, Dubai is the ultimate place of luxury for a balloon ride. Towering sand dunes, character-filled camels and awe-inspiring deserts make Dubai and amazing place for a balloon ride. You'll see wonderful oases as you pass over the seemingly dry landscape and dust glimmering in the sky. You'll even get to enjoy the local nightlife when you land!
3. Loire Valley, France
The Loire Valley is situated about 200 miles Southwest of Paris, and stretches more than 170 miles. These huge proportions are matched with an incredible amount of interesting sights. Over 800 grand castles and manor houses are sprawled across the valley with bucolic vineyards, sunflower fields, picturesque stone villages, and bubbling streams. For those of a romantic disposition, the Loire Valley resembles something straight out of a fairy tale.
2. Angkor Wat, Cambodia
Angkor Wat in Cambodia is the world's largest religious complex and a historical site of huge cultural importance. A balloon flight will take you over the temples and Siem Reap as you gaze down in utter amazement in the sunset views and take in the pure beauty of this one-of-a-kind area. It's like something out of a film, or a mythological story, but right before your eyes.
1. South-West England
But of all these far-flung ballooning locations, we still believe that the UK is the best place to fly. With such a diverse range of scenery, from fields and summer meadows, to thick forests, to striking rock formations and, cliffs, spectacular seascapes and some of the most historically important sites in the world such as Stonehenge and King Arthur's castle, a UK hot air balloon flight is truly unbeatable. Relax with a glass of champagne and friends and you'll feel your whole world transform into a newly beautiful place.
What's also great about ballooning in the UK is that it is considerably safer than anywhere else in the world. UK balloon pilots are the most qualified you can find, with incredibly strict training practices and licensing, along with regular tests. Every balloon pilot in the UK has to be fully licensed with the Civil Air Authority, and every balloon has to pass stringent safety tests each year to be allowed to fly. If you do fly abroad, be sure to go with a licensed pilot. But, with a balloon flight in the South West, you will not only have the time of your life, but you can rest assured you'll be completely safe.
To find out more about the amazing balloon rides available to experience right on your doorstep, contact us today!