Visit Britain 'Good To Go' Award for Aerosaurus Balloons
1st September 2020 News
Aerosaurus Balloons are elated to announce that we have received the Visit Britain 'Good to Go' award. The award assures our current and prospective flyers that we are a completely safe hot air balloon flight provider and that we always adhere to government and Public Health England guidelines. With Aerosaurus Balloons being a leading balloon flight company in the South West, we knew that it was imperative to acquire this certification from Visit Britain.
Hot Air Balloon Flight Providers – Good to Go
Since the outbreak of Coronavirus, industry standard awards such as the 'Good to Go' from Visit Britain and the AA Covid Confident accreditation have become all the more important and with good reason. It is just as important to us that our passengers respect social distancing and other covid-19 related measures than it is for them to know that organisations like Aerosaurus Balloons are taking every precautionary step. 
As an established provider of memorable hot air balloon flight experiences, we understand that it's significant to adapt and be versatile at a time like this. As such, we are currently only running private balloon flights, as opposed to group flights, and of course we're abiding to the very latest coronavirus related guidelines, as set out by the government. You can book an exclusive balloon flight at a flight location of your choice today by calling 01404 598251 or by purchasing your flight online. 
For those interested in coming on a private balloon flight with Aerosaurus Balloons, we provide three options: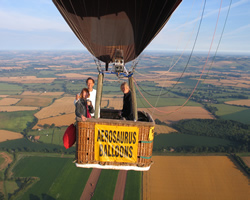 About the 'Good to Go' Award
The Visit Britain 'Good to Go' award scheme was introduced to help organisations instil confidence in their customers or clients, to assure them that they are safe operators. As the Visit Britain website states, the 'Good to Go' scheme "is now available to provide a 'ring of confidence' for businesses, attractions and destinations as well as reassurance to local residents and visitors that clear processes are in place and that as a business you are good to go."
In order to obtain the award, Aerosaurus Balloons had to evaluate our current health and safety practices in accordance with those set out by Visit Britain, which includes some regulations relating to shielding against the spread of coronavirus. Now that we are official awardees of the 'Good to Go' scheme, we receive prompt alerts as and when there are changes to the guidelines set out by Visit Britain. We will account for these alterations and they will be reflected in our health and safety practices as soon as they are instated. 
Join Us For A Safe Balloon Flight
We hope that this article has provided you with an insight into the Visit Britain 'Good to Go' award and what it means for Aerosaurus Balloons. For more information about the award, please visit the Visit Britain website by following the link above. If you would like to book a private balloon ride with us but have questions that you seek answers to before booking the flight, please contact us today. We look forward to welcoming you into one of our baskets for a safe balloon flight soon and we'll announce the return of group flights as soon as it is safe to do so.