What Somerset Has To Offer From Above
9th April 2021 South West
Somerset is an area of astounding beauty and a county enthralled in rich history. Just as there is plenty to do on foot, there is also a wealth of things to explore from the air. In this article, we explore what Somerset has to offer from above. You can enjoy all of the sights and scenery mentioned below on a relaxing balloon flight in Somerset with Aerosaurus Balloons!
Balloon Rides In Somerset – Aerosaurus Balloons
Whether you wish to take in the historic buildings, sweeping landscapes, raw wildlife or infrastructure that withstands the test of time, Somerset offers it all and we provide the perfect, elevated vantage point. Before we take a look at some specific attractions and things to see in Somerset from a hot air balloon, we'd like to provide some information about our balloon flights.
The first thing to note is that we have two meeting locations in Somerset, the Halfords Superstore in Taunton and the Wheathill Golf Club in Castle Cary. Those that embark on a balloon flight taking off in Taunton will enjoy the orchards, willows and hamlets of the surrounding areas as well as the Blackdown and Quantock hills, among many other things! If you choose to take off in the Castle Cary area, you'll have the opportunity to take in the quaint country villages and the Mendip Hills, plus much more.
At Aerosaurus Balloons, we provide a range of balloon flight vouchers; they are your ticket to enjoy a fabulous Somerset balloon flight. Two options that have proved very popular of late are the Buy Now Pay Later voucher and the Anytime Voucher. The former allows you to pay just £40 up front and the rest at a later date, whereas the latter enables you to pay in full up front. Now, let's take a look at some of the standout things to see on a Somerset balloon ride!
The Vast Beauty Of Exmoor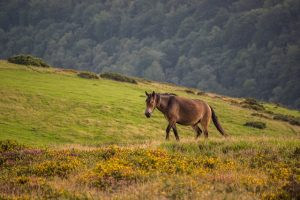 Exmoor National Park, with its catalogue of splendid views, is the perfect place to enjoy from over 3000 feet above ground. On a Somerset balloon flight, you'll be able to see every inch of the 692 km² national park, including the vast lush greenery and the unmistakable Exmoor coastline. What's more, you'll also be able to spot grand pieces of architecture such as Dunster Castle and the abundance of valleys that run throughout Exmoor.
Facts About Exmoor National Park
During our balloon ride in Somerset, our pilots provide passengers with intriguing snippets of information about the land we pass over, drawing on their extensive experience of flying in the county. Did you know the following about Exmoor National Park?
Exmoor has the highest coastline in England and Wales, with Culbone Hill being the highest point at 433m.
Exmoor is home to a very rare butterfly, the heath fritillary butterfly.
You will find high waterfalls on the sea cliffs.
Exmoor has the highest and lowest tides in Europe.
If you wish to read more interesting stats on Exmoor before exploring the national park from the skies, check out these facts and figures about Exmoor.
The Somerset Levels & Moors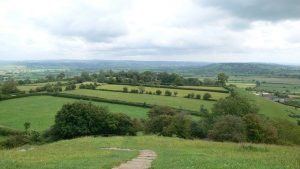 Just as Exmoor National Park provides passengers on our Somerset balloon flights with expansive views of luscious countryside, the Somerset Levels and Moors also provide breathtaking scenery. Spanning an area of 650 km² and stretching from the Avalon marshes to the feet of the Blackdown Hills, the Somerset Levels are of international importance.
Not only do the Somerset Levels and Moors play an integral role in supporting a variety of plant and bird species, but they are fantastic to look at! We will also catch a glimpse of some interesting wildlife along the way, in their most natural of habitats. Whether the moors are flooded or resplendent in a sea of greenery, the area serves up some truly phenomenal sights to behold.
Did you know how the county of Somerset received its name? The levels and moors are amongst the lowest and flattest areas in the UK. The area was once covered by sea, apart from the mumps that poked above the water as islands. Somerset is known as the 'land of the summer people' as the pastures were only accessible in Summer!
The Historical West Somerset Railway Route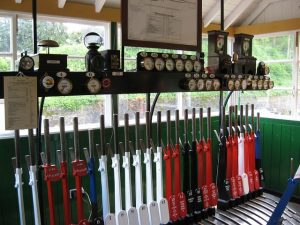 The notorious West Somerset Railway route runs from Bishops Lydeard to Minehead and is a magnificent thing to experience with family and friends in Somerset. The route itself can also be enjoyed from high in the sky, with parts of the historical railway line being visible from our hot air balloons. Who knows, you may even see a steam train making its merry way along the route whilst enjoying your Somerset balloon ride!
The 20 mile stretch of railway takes you through a number of villages steeped in history and our pilots know all there is to know about each stop, as well as the romantic era that is steam train travel. So, why not view the journey from an alternative viewing point and take in the sights from one of our balloon baskets?
Jaw-Dropping Architecture
There are so many pieces of stunning architecture to admire in Somerset, whether you choose to take off from one of our Taunton locations or one of our Castle Cary starting locations. Take Wells Cathedral as a prime example. This beautiful cathedral has been enchanting people for over 850 years and really is something to behold from our hot air balloons.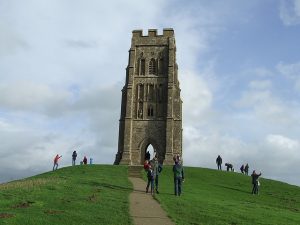 Another amazing architectural feat comes in the form of Glastonbury Tor. The image of this tor is world-renowned and, when explored from a bird's eye view, is just as impressive as it is up close. Thirdly, The Museum Of Somerset, located in the heart of the county town of Taunton, is a great piece of architecture that our passengers enjoy taking in. The museum is located in the 12th century great hall of Taunton Castle.
These are just some of the architectural sights to behold in Somerset and throughout the county, whether in the main towns or secluded villages, there are plenty of unique buildings to enjoy looking at on a balloon flight.
Join Us On A Somerset Balloon Flight!
If any of the attractions we've discussed in this article has whetted your appetite, why not check out our selection of balloon flight vouchers and book your Somerset balloon ride today? Should you have any questions for us before your flight or throughout the booking process, please feel free to contact us directly, by phone, email or contact form.