5 Reasons To Book A Hot Air Balloon Ride This Autumn
14th November 2022 South West, News
At Aerosaurus balloons, it's no secret that we're passionate about hot air balloon rides! There really is nothing quite like soaring through the open sky in a balloon, and throughout our 27 years in operation we've helped more than 100,000 passengers discover that joy. Since we're offering a super buy now pay later offer this Autumn, where you only need to pay £40 for a balloon flight voucher today and nothing more until March, we thought the time was right to share exactly what makes a balloon ride in the UK so wonderful. Here are five of our favourite things about hot air balloon rides:
5. Unmatched Views
If you've ever looked up at the birds soaring through the sky and wondered what it would be like to see as they did, that's what a hot air balloon ride can offer. You have the chance to see the world stretch out beneath you and can appreciate the beautiful details of the countryside as you never have before.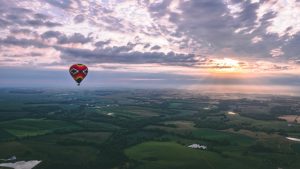 At Aerosaurus Balloons, we're lucky enough to operate balloon flights in the South West UK, which has some of the most stunning scenery that the country has to offer. On our hot air balloon rides in Cornwall, Mid & East Devon, Somerset, and Dorset, you will be able to experience incredible natural beauty from a truly unique perspective.
4. Just You And The Open Air
When you're embarking on a hot air balloon ride, there's no frills or fuss, no long list of equipment to bring or strap yourself into. All you need is yourself, your pilot and the perfect weather to fly. That sense of freedom is one of the key things that draws so many to balloon flights.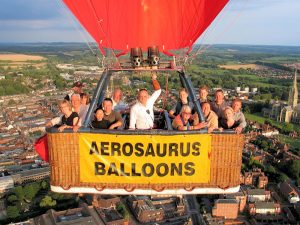 With so little equipment needed, you can truly immerse yourself in the freedom the experience offers; allowing you to let go of everything on the ground and enjoy a serene journey through the open sky. On an aeroplane, there's no end to the faff of getting through security and unpacking and repacking your belongings for what seems like an endless series of checks, but with a hot air balloon ride? All you need is a sense of adventure.
3. The Excitement Of The Ascent
While there's so many joys to have once you're high in the sky, one hot air balloon ride experience many forget to mention is how exciting the journey is to get there. The feeling of meeting your pilot, stepping up into the basket and getting to know the balloon that will take you on your adventure, it's all a magical part of the experience.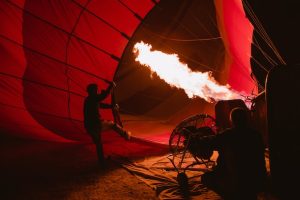 Then, once everything is ready, the true ascent begins. The sudden feeling of weightlessness is something everyone should experience once in their lives, and as you steadily rise higher and higher into the air you can watch the ground below shrink into miniature. There really is nothing like it.
2. Makes Any Occasion Unforgettable
There are so many occasions in life that you want to make special. An absolutely perfect day that people will carry with them for the rest of their lives. A hot air balloon ride is one of the few ways you can make that happen.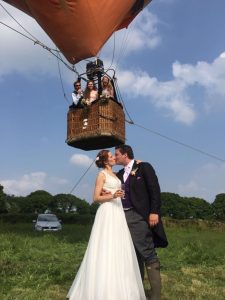 At Aerosaurus balloons, we offer Christmas balloon flight gifts, romantic Valentine's day balloon flights, mother's day balloon flights, balloon flight weddings/proposals and more. With the magic of a hot air balloon ride you can show a loved one how much you really care, and make the occasion something they will truly never forget.
1. Every Experience Is Unique
One of our favourite things about taking passengers on a hot air balloon ride is that we know their experience will be totally unique. There is no direction other than where the wind takes you, no goal other than to enjoy the journey. Discovering where you'll end up is all part of the excitement.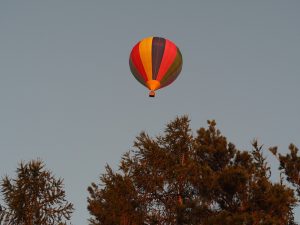 The sense of freedom and adventure that fills you after surrendering yourself to the flow of air currents is like nothing else, and is something that we never tire of experiencing, or seeing in our passengers. After all, isn't freedom what soaring through the air is all about?
Hot Air Balloon Rides Across The South West UK
Whether you're looking to celebrate a special occasion, gift the perfect Christmas present, or just want to experience a real adventure, hot air balloon rides with Aerosaurus Balloons can help. If you're based in the South West, then we're sure to have a flight meeting location near you, and if you aren't, we also offer flights nationwide.
If you're interested in learning more about hot air balloon rides with us, please get in touch on 01404 823102 or by email at mail@ballooning.co.uk. If you haven't noticed by now, we're always happy to talk about hot air ballooning!