Aerosaurus' Balloon Flight Vouchers Guarantee Amid COVD-19
20th May 2020 News
There is a lot of uncertainty attached to the COVID-19 outbreak yet, at Aerosaurus Balloons, we are adapting to the situation to ensure that our customers get the protection they deserve with regards to our balloon flight vouchers. We are pleased to announce that we're providing all customers with a balloon flight voucher guarantee. Our promise; any balloon flight vouchers that are purchased now are valid for a year, from when Aerosaurus Balloons start flying again.
Balloon Flight Vouchers from Aerosaurus Balloons
All of our balloon flight vouchers are still available to purchase online or over the phone at this time. The flight vouchers are instantly available, meaning you or whoever you have bought them for can access them immediately. Whether you opt for the Buy Now Pay Later Flight Voucher, an option that means you'll pay just £40 up front, the Anytime Voucher or our popular Absolute Voucher, you'll get 12 months to take your flight from when our balloons are back in the skies. 
A balloon flight voucher from Aerosaurus Balloons is the ideal present for either an experienced or first time flyer, providing them with an abundance of flexibility and choice. Choose to fly over any of our South West locations and capture moments and photographic images like no other.
South West Balloon Flight Providers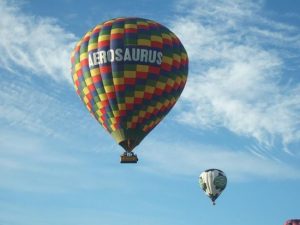 A beautiful ascent over the historic Cornwall coastline, a splendid balloon flight over the picturesque countryside of South Devon and a balloon ride taking in the spectacular moorland and levels of Somerset. These are just some of the South West balloon flight experiences provided by Aerosaurus Balloons. 
This year is an anniversary year for Aerosaurus Balloons – a year in which owners Clive and Jo are celebrating 25 years in business. Our team looks forward to welcoming passengers into our baskets again soon. We are always here to discuss any of our balloon flight voucher options and any questions that you may be seeking answers with regard to balloon flights. Contact us if you wish to speak to our team of friendly ballooning enthusiasts. For now, stay safe and we endeavour to see you very soon.