Make Your Summer Extra Special With A Somerset Balloon Flight
26th July 2022 South West
With record temperatures and gorgeous sunshine, summer 2022 is the perfect time to take in a hot air balloon ride over Somerset. The natural beauty of the area has long been recognised as matching up to the best in the UK, and what better way to appreciate it than soaring high above in a hot air balloon. To give you a taster of what you might see on your own aerial adventure, below we outline the stunning sights available on our Somerset balloon flights launching in both Taunton and Wincanton.

Taunton
Perched beside the River Tone is the thousand-year-old market town of Taunton. Long been a popular tourist destination for those living in Somerset, Devon, Dorset and beyond, the true beauty of the area can only be appreciated from on high in a Somerset balloon flight. To help paint that picture, here are our favourite sights to take in when using your balloon flight voucher at Taunton.
Vale Of Taunton
A designated national character area, the Vale of Taunton is a stunning pastoral moorland overlooking the Bristol channel. Flying high on your balloon ride over Somerset, you will see everything this area has to offer: Woodlands, farming landscape, red soils, quaint hamlets and more. Once you've experienced it for yourself, it'll be easy to understand why it's one of our favourite Somerset balloon ride sights.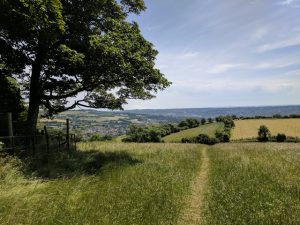 Black Down Hills
Stretching across the Somerset-Devon border are the Blackdown Hills, a recognised Area of Outstanding Natural Beauty. This area is perhaps one of the best representations of pure British countryside in the country, populated by hedgerows, copses, small farms and deep valleys, and of course, teeming with wildlife. When experiencing this area on a Somerset balloon flight, you will be able to appreciate its beauty all the more, and get a true sense for the scale of this natural wonder.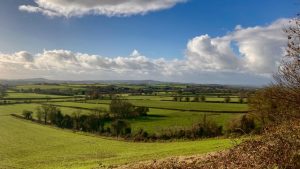 Wincanton
Whether it's on a private balloon flight or a corporate balloon flight, Wincanton always makes for a delightful flight meeting location for your Somerset balloon ride. Nestled in the South of Somerset, Wincanton is a small town that is surrounded by beautiful areas to take in from the sky. Here are our favourites:
Mendip Hills
Another Area of Outstanding Natural Beauty (there's a reason Somerset is considered one of the most beautiful places in the UK!), the limestone Mendip Hills are definitely a sight not to be missed on a Wincanton balloon ride. The landscape of slopes, plateaus and deep gorges make for a both fascinating and picturesque view from your balloon basket. Not only that, the hills are dotted with a multitude of ancient monuments that are quite striking when taken in with the surrounding landscape below.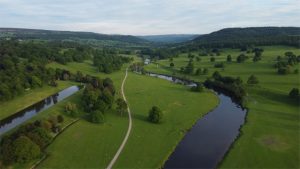 Somerset Levels
This list of top sights on a Somerset balloon flight wouldn't be complete without a mention of the Somerset Levels. Making up the heart of the country, the Somerset Levels are an internationally important area of levels and moors, and is one of the lowest & flattest areas of the UK. As you may be able to imagine, this trait makes it a wonderful sight to take in one your balloon ride over Somerset, as it allows you to take in the stunning views of marshes, rivers, and wildlife in its full magnificence. Truly, this is one not to be missed.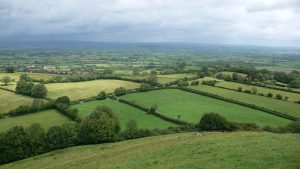 Balloon Rides Over Somerset & The South West With Aerosaurus
At Aerosaurus balloons, there is nothing we enjoy more than exploring the beautiful South West UK on a balloon flight. This is not limited to Somerset, we also offer balloon flights in:
If you are interested in the flights we offer, in Somerset or in other parts of the South West, please visit our website or contact us directly on 01404519801 or by email at mail@ballooning.co.uk. We look forward to having you join us in the air on a Somerset balloon flight someday soon!
If you enjoyed reading this article, consider taking a look at our previous post on "4 landmarks to see on a Balloon ride in Tiverton this summer".