The 6 Most Romantic Hot Air Balloon Rides In The World
26th January 2022 Travel
With Christmas only just passed and Valentine's day fast approaching, it's no surprise that many people have romance on their minds. We at Aerosaurus Balloons are no different! This year we decided to look far beyond our own South West balloon flights to share with you the most romantic hot air balloon journeys anywhere in the world. Though if the South West is your favourite place (like it is ours!) feel free to take a look at our balloon flight vouchers.
Without further ado and starting from number six, lets explore our picks for the most romantic hot air balloon rides in the world. If this list doesn't get you in the mood for a valentine's day balloon ride, nothing will!
6) Teotihuacan – Mexico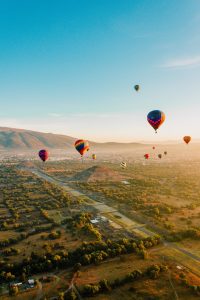 Teotihuacan was once the largest pre-Columbian city in the Americas, with buildings that date as far back as 300 BC. Also known as the City of the Gods, the most incredible way to witness these majestic pyramids and surrounding valleys is with a god-like view.
Seen from high in the sky, the way the ancient stonework lights up with the rising sun is breathtaking. Experiencing the remains of this beautiful city in a hot air balloon ride sure to be a truly unforgettable romantic flight. One sure to last in the memory as long as the pyramids themselves.
5) Maasai Mara – Kenya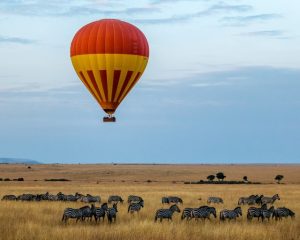 The African savannah has long been a lifelong dream destination of would-be adventurers since the age of exploration. At the Maasai Mara Nature Reserve visitors can experience the thrill and beauty of African wildlife as only an eagle can in a romantic hot air balloon ride. This is an incredible destination that Aerosaurus balloons have personally visited, and we can attest that the Kenyan wildlife makes for an amazing backdrop to a hot air balloon ride.
With the stunning scenery of the sweeping plains and grasses, and a champagne breakfast provided when you land, Maasai Mara surely offers one of the best valentines day hot air balloon rides imaginable.
4) Bagan – Myanmar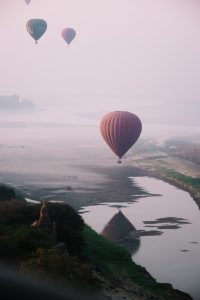 The ancient city of Bagan is considered so worthy of preservation that it was named a UNESCO world heritage site. Even from pictures, it is easy to see why. Miles upon miles of plains blooming with palm and tamarind plants, and thousands of beautifully preserved ancient Buddhist temples. All this is framed perfectly by the glittering Irrawaddy river and the shining caps of distant mountains.
Truly, the only way to appreciate the scale of this place is in a peerless romantic hot air balloon ride in Bagan. On this we truly speak from experience, in normal circumstances we fly in Bagan every year! The journey over these plains and the surrounding villages is an amazing way to appreciate the sheer scale of the place in a way that very few get to. It's a romantic hot air balloon ride experience we personally recommend.
3) Château-d'Oex – Switzerland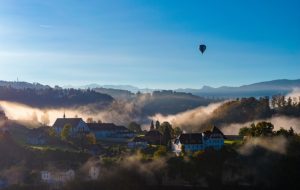 If sweeping plains and sunlit vistas aren't enough to put you in a romantic mood, then look no further. At Château-d'Oex in Switzerland the lucky passenger on a hot air balloon ride will experience the breathtaking beauty of the Vaudois Alps. Château-d'Oex is so proud of their romantic hot air balloon rides that they host an international hot air balloon festival every January.
Château-d'Oex attracts pilots from more than twenty countries each year, and Aerosaurus balloons are pleased to count ourselves amongst them! With panoramic views of the most recognisable mountains in Swiss alps, as well as of Romont castle and the stunning city of Fribourg, this is a destination we can say from experience is a gorgeous choice for any valentine's day balloon ride.
2) Blue Mountains – Australia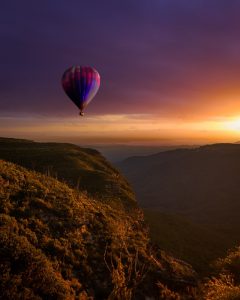 Only two hours out from Sydney, the Blue Mountains are a perfect destination for a romantic hot air balloon ride. Renowned for its stark sandstone ridges and the vastness of its surrounding wilderness, the Blue Mountains are home to many small towns and some beautiful spiritual sites of ancient Aboriginal rock art.
If you're lucky enough to catch these ridges at the right time (sunrise or sunset) on your valentines day hot air balloon ride in the Blue Mountains, they can become enwreathed in glowing clouds which transform this landscape into something truly magical.
1) Sahara desert – Morocco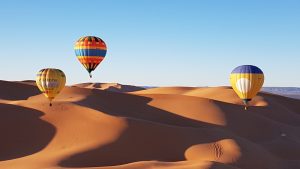 If getting cold is something you worry about when going on a hot air balloon flight, then this next destination is perfect for you. Most of these journeys set off from Marrakech and take you down to the small village Merzougo. Here you'll soar into the desert skies to experience the wonder of the endless sand dunes from high up in the sky. Witness the trails travellers once took on foot from the comfort of a basket on your romantic hot air balloon ride in the Sahara.
In The Mood For A Valentine's Day Hot Air Balloon Ride?
Looking at all these beautiful destinations it's no surprise if you feel a sense of wanderlust. Worry not, Aerosaurus is here to get you sorted with the perfect Valentine's day hot air balloon ride. Our South West balloon flights are the perfect way to show your special someone just how you feel about them, without needing to journey so far from home. Seen from high above, the South West landscape transforms into a place of beauty and romance, and our experienced pilots will ensure that your journey is safe and comfortable.
Our Valentine's day balloon rides can be booked as balloon flight vouchers, allowing you to surprise your loved one the right way, and with exclusive flights for two offered at Aerosaurus balloons, your valentine's day balloon ride can be tailored to be the perfect romantic moment for the two of you. If you're too excited to wait, we've got plenty of suggestions for books and films featuring hot air balloons to tide you over until the big day.
Contact us today to book your romantic hot air balloon flight, and make your valentine's day a truly unforgettable experience.