The Best Books Featuring Hot Air Balloon Rides
11th October 2021 News
Since we are in the business of delivering fantastic hot air balloon ride experiences, we thought it appropriate to explore some of the best books featuring hot air balloon rides and share some good reads with our customers! Between Aerosaurus Balloons staff, we've read our fair share of books relating to ballooning, whether fiction or nonfiction. Come with us as we explore some of the best reads that our team has experienced and pick up ideas for Winter reading next to the fire.
Book That Involve Balloon Rides
There are many that haven't made our list but deserve an honourable mention. Ballooning Manual by Bob Carol Howes is a modern book that will interest those looking to enter or progress in the ballooning industry, as it contains information on knowledge required to pass hot air balloon exams and guidance on how to become a licensed pilot. Speaking of pilots, have you checked out our article Get To Know An Aerosaurus Balloons Pilot? This piece provides an insight into the life of Aerosaurus Balloons pilot, Barry.
Another book that deserves to be mentioned is Washington Black, a tale of a young black slave being liberated by explorer, scientist, abolitionist and inventor Christopher Wilde. Together, the duo take a balloon ride along the eastern coast of America, and, finally, to a remote outpost in the Arctic. We recently brought you our Top 5 Must See Hot Air Balloon Films and now it's time to take a look at the best books to feature hot air balloon rides!
Around The World In Eighty Days, By Jules Verne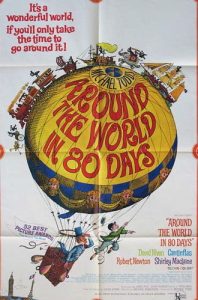 Image credit: Nathan Hughes Hamilton
There is no other place to start; 'Around The World In Eighty Days & Five Weeks in a Balloon', to give it it's full title, had to kick off our list! First published in England in 1873, this timeless classic tells the story of calm and collected Phileas Fogg's adventures all over the globe, with his accomplice Passepartout. Phileas is ultimately challenged to travel around the entire world in just eighty days, a feat that he manages to accomplish despite a series of setbacks and difficulties along the way.
Despite the book only briefly mentioning a hot air balloon being the duo's mode of transport for five weeks, front covers, posters and other visual depictions of the tale almost always feature a hot air balloon. Phileas Fogg is undoubtedly one of the most famous literary balloonists and the novel is a gripping read that we can't get enough of!
Daffodil and Golden Eagle by Jonathan Yeatman
This splendid non-fiction book is a fantastic read that is hard to put down once you start reading it. Daffodil and Golden Eagle is all about Don Cameron, Felix Pole and Julian Nott's 1972 balloon ride from Spain to Niger. On their conquest, they are joined by two drivers, two chefs and a camera team. The book gives a detailed account of the hot air balloon ride and how the group managed to navigate their way across the Sahara Desert, becoming the first people to do so in a hot air balloon. Not only did they claim this achievement, but they also set a new altitude record when they soared to 19,458 feet. If you are not familiar with this historical moment in ballooning history, Daffodil and Golden Eagle is well worth a read. If you are familiar with the narrative, it's worth re-capping and refreshing your memory!
The Subtle Knife by Philip Pullman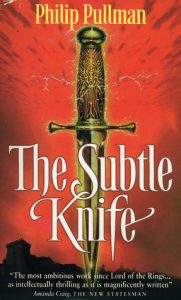 Image credit: pqgw
Most people will know this title as the second book in the His Dark Materials trilogy, a highly popular piece of writing that was brought to television screens all over the world in November 2019, airing on BBC One. Several members of our team can confirm that The Subtle Knife novel, published in 1997, is as compelling as the TV series! The novel begins by focusing on a 12-year-old named Will, who has just killed a man and is on a quest to determine what happened to his father, who mysteriously disappeared out of his life.
Will then meets a savage girl named Lyra, who also carries the same amount of determination and has a mission that she intends to see through at any cost. Dangers lurk around every corner, but how will the protagonists fare? If you have seen the TV series, you may already have an idea, but we still recommend reading the book. During the book, hot air balloons are used as modes of transport, which is why this fantastic piece of literature makes our list.
The Mysterious Island by Jules Verne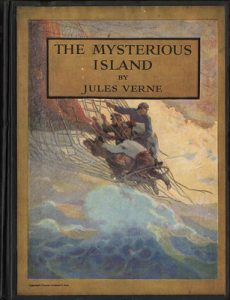 Image credit: Special Collections Toronto Public Library
In with his second entry in our list of the best books to feature balloon rides is Jules Verne and his book The Mysterious Island. This novel was published in 1875, just two years after Around The World In Eighty Days, and is classified as an adventure novel. In this book, a group of five northern prisoners escape a Confederate camp during the Siege of Richmond, Virginia, an event in the American Civil War. A hijacking of a hot air balloon facilitates the escape. After travelling 7,000 miles in the hot air balloon, the group drop out of the skies onto an uncharted volcanic island, situated in the Pacific.
The group set out to build a colony from the bottom up, but the island holds some secrets that can either interfere or enhance these plans. A series of events occur after falling out of the balloon, yet there is something on the island that appears to protect the group. Find out what happens to the group after landing on the island by picking up The Mysterious Island.
Freddy And The Perilous Adventure by Walter R. Brooks
Lastly, we come to Freddy And The Perilous Adventure. This is a novel created by renowned children's author Walter R. Brooks and was first published in 1942. The book is said to be a suitable read for 9-12 year olds but it contains a variety of double meanings, which essentially makes it a suitable read for adults too. It tells the story of how Freddy the pig becomes an accidental hot air balloon pilot, after failing to succeed as a publisher, detective, politician and in other professions.
Through a hot air balloon malfunction, Freddy and two ducks, who become his co-pilots, embark on a balloon ride across upstate New York. The novel delves into the feelings, dangers and sensations of ballooning whilst the contents of the picnic basket is also explored. Along the way, the protagonist Freddy comes across a helpful eagle, circus animals and parachuting mice! We highly recommend that you and your children go on an adventure with Freddy and co.
Enjoy Some Of The Best Ballooning Novels
We hope you enjoy reading our recommendations and, in the meantime, if you have any questions for us, please let us know. Whether it's about a book featuring hot air balloon rides or you wish to enquire about booking a balloon ride, we welcome you to contact us. Equally, if you'd like to recommend that we add a certain ballooning related novel to the list, just get in touch!