Float Around in Love This Valentine's Day
22nd January 2015 News
Whether you've been together for years or you're celebrating your first Valentines together its important to select a gift that they will truly enjoy, a gift like no other, a gift that will stay with you forever: A gift of a breath taking Hot Air Balloon Ride in Devon, Wiltshire, Cornwall, Dorset or Somerset. Together you could be floating gently above the clouds, sipping on champagne, gazing into each others eyes with some of the most beautiful scenery in the world as the background.
There aren't many experiences you can share with a loved one that are quite as romantic as a Hot Air Balloon ride. Show your partner just how much you love them and surprise them with a Valentines gift they'll remember.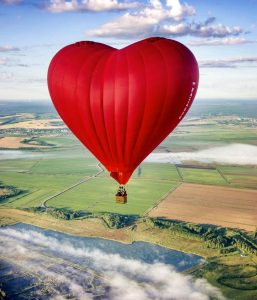 Purchasing an open dated ticket will also give you the flexibility you may need to pick the perfect location and date convenient for you. So even if you don't wish to fly on February 14th you can give them a taste of the day to come with one of our Heart Balloons in a Box presentations containing a beautiful presentation pack including tickets inside. This will give you both something exciting to look forward to and plan together.
So for the ultimate Valentines expression of love this February book your romantic champagne hot air ballooning flight for 2 today and a balloon in a box here.
Facts about Valentines Day
Here are some interesting facts about Valentines day to get you in the mood:
220,000 is the average number of wedding proposals on Valentine's day each year
Physicians of the 1800's commonly advised their patients to eat chocolate to calm their pining for lost love.
Teachers will receive the most Valentine's day cards, followed by Children, mothers, wives, sweethearts and pets
Women purchase approximately 85% of all valentines day gifts
Many believe the X symbol became synonymous with the kiss in medieval times. People who couldn't write their names signed in front of a witness with an X. The X was then kissed to show their sincerity.