Valentine's Day Gift – Champagne Balloon Ride
8th January 2010 Holidays
There is nothing better you can give a loved one this Valentine's day than a hot air balloon flight voucher. A champagne hot air balloon ride is one of the most romantic gifts. Float in the sky over South and East Devon, Dorset, Cornwall, Wiltshire or Somerset. No matter where in the South West you are based, we have a wide range of meeting locations so that you can have the romantic champagne balloon flight of your dreams.
To celebrate the day we're offering flights through out the week. To check availability just visit our flight availability and reservations page and discover when we can take your love to new heights this valentines day. There really is nothing quite like seeing the beautiful South West countryside stretching out below as you stand beside your loved one and soar through the sky on a champagne balloon ride.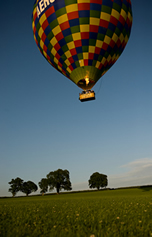 If you've got something else planned for the special occasion, don't worry. You can always purchase an open dated balloon flight voucher to give on the day that can be used anytime within the next 12 months. This makes it an ideal, un-restricted option. If you're looking to make this special occasion a surprise, our vouchers can be delivered as a balloon in a box package so that you can make this wonderful occasion even more special.
If you want to go that bit further don't forget that you can always purchase a nationwide hot air balloon flight voucher which will enable you to fly from any of our launch sites in England, Scotland or Wales. With these all these options tailored to suit you, there you can be certain that love is in the air this Valentine's Day.
Can You Propose On A Hot Air Balloon?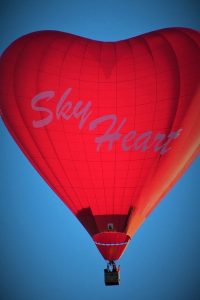 You certainly can! Popping that all important question while soaring through the air is certainly going to make for a unique proposal that your loved one will never forget, and with our champagne balloon ride package you'll have the celebrations afterwards already taken care of. If you'd like things to be extra intimate while you work up the nerve, we also offer small balloon hire to allow you to have an exclusive hot air balloon experience (with our expert pilots there too of course!) and craft a private memory for the two of you.
When it comes to romance this Valentine's Day we want nothing more than to support you so that your dream champagne balloon flight becomes a reality. If you have any questions or need to enquire about additional arrangements, please contact us and we will do everything we can to help.