Valentine's Day Hot Air Balloon Flights
24th January 2013 News
Looking for the perfect romantic gift this Valentine's Day? Imagine drifting peacefully above the clouds, whilst sipping champagne and experiencing some of the most beautiful, natural, landscapes in the UK. A romantic hot air balloon flight could be the perfect start to Valentine's Day and would definitely make 2013 a year to remember!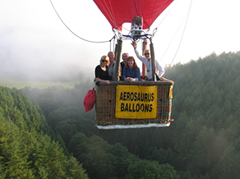 We have both morning and afternoon flights scheduled to meet in Devon (South Devon and Mid/East Devon) on Valentine's Day, or if you have other plans for the day itself, our open-dated gift vouchers make the perfect gift for that 'special' someone!
We also have a fantastic range of gift ideas to make the occasion even more special, such as a set of commemorative in-flight photos or our popular 'Balloon in a Box'. So, why not call us direct on 01404 823102 today and find out how to make Valentine's Day 2013 a date to remember!