Valentine's Day Hot Air Balloon Flights
24th January 2013 Holidays
Looking for the perfect romantic gift this Valentine's Day? Imagine drifting peacefully above the clouds, whilst sipping champagne and experiencing some of the most beautiful, natural, landscapes in the UK. A romantic Valentine's Day hot air balloon flight could be the perfect start to Valentine's Day and would definitely make 2023 a year to remember!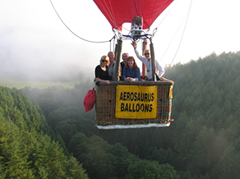 Where You Can Attend A Valentine's Day Hot Air Balloon Flight
We have both morning and afternoon flights scheduled to meet in Devon (South Devon and Mid/East Devon) for hot air balloon flights on Valentine's Day, as well as a wide range of other meeting locations across the South West so that you can see the countryside that you truly love from a completely new perspective. There really is nothing quite like staring down at the landscape stretching up below the basket as you soar high in the air on the Valentine's Day hot air balloon flight with your loved one at your side. It's sure to be a memory that both of you cherish and look back on for many years to come.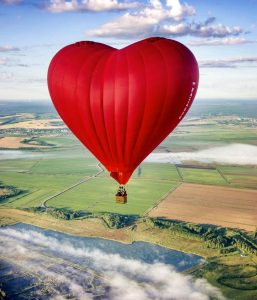 If you have other plans for the day itself, our open-dated anytime gift vouchers make the perfect present for that 'special' someone! With this you can schedule your hot air balloon flight for a day that suits both of you, taking the stress of organising everything all at once away and allowing you to fully immerse yourself in this magical experience. There are even more options, such as extensions if for whatever reason you aren't able to schedule your flight within the 12 month period, so there's no reason to worry when it comes to booking a Valentine's Day hot air balloon flight with us.
Our experienced pilots take care of everything from lift off to touch down, all you need to do is bring you and your loved one (and some sensible clothes!) to the meeting place on your chosen date and we will take care of providing you some of the most stunning views in the UK! There really is nothing quite like seeing the world anew from high up in the sky, so if you really want to make this Valentine's Day a special one, don't hesitate to get your hot air balloon flight voucher today. With our champagne balloon ride gift packages, the celebrations are even taken care of for you, so you can full enjoy this magical time together.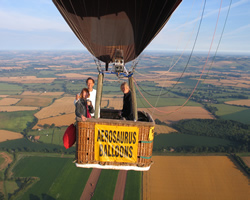 We also have a fantastic range of gift ideas to make the occasion even more special, such as a set of commemorative in-flight photos or our popular 'Balloon in a Box'. There really is no better way to celebrate this holiday than to float around in love this valentines day; so why not call us direct on 01404 823102 today and find out how to make Valentine's Day 2023 a date to remember!